Dokumenter tentang dunia laut lazimnya ditampilkan lewat sudut manusia, terutama mereka yang paham soal dunia laut. Namun, hal itu tak berlaku pada "Puff: Wonders of the Reef" (2021) yang memakai sudut pandang berbeda.
Dokumenter ini justru memakai sudut pandang seekor ikan buntal bernama Puff. Dengan sudut pandang semacam itu, penonton bisa lebih memahami seperti apa kehidupan seekor ikan buntal, serta sudut pandangnya terhadap lautan. Sebagai film dokumenter, "Puff" punya kru yang jumlahnya tak mencapai ratusan. Walau begitu, mereka berhasil menyajikan dokumenter dengan sudut pandang berbeda.
Dokumenter ini dibuka dengan lanskap The Great Bearer Reef selaku latar tempat. Berbagai visual yang menampilkan proses kemunculan Puff di kompleks terumbu karang pun ditampilkan. Suara Rose Byrne pun lantas muncul sebagai narator yang akan menemani penonton selama dokumenter berlangsung.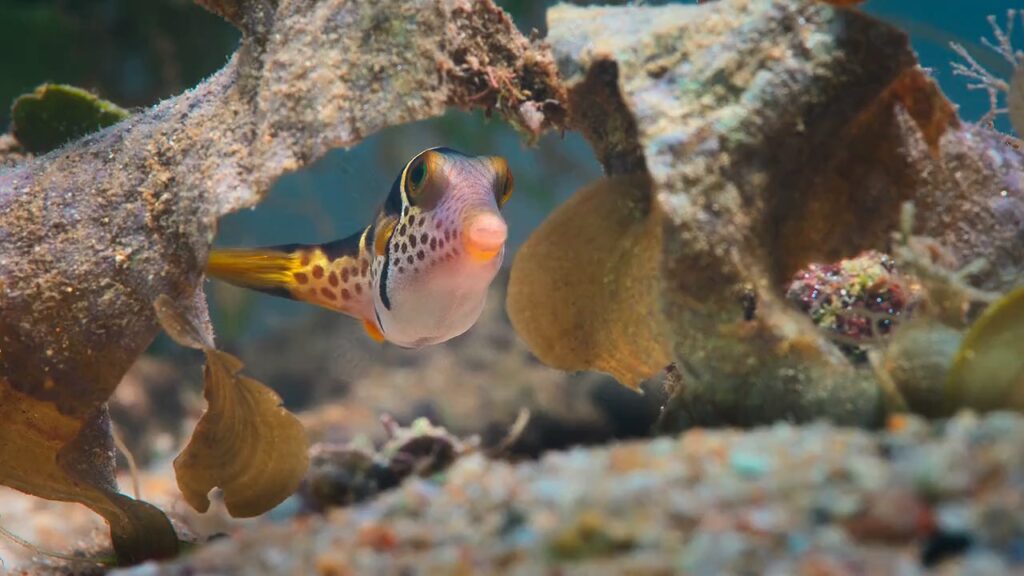 Dari segi penulisan, "Puff" Wonder of the Reef" memakai alur maju yang disajikan dengan flow pas, serta durasi relatif singkat, yakni hanya 62 menit. Selama menonton dokumenter ini, penonton tak akan menemukan footage foto dan video, serta wawancara dari berbagai narasumber yang lazim dijadikan selingan.
Dokumenter ini pun juga tak menyajikan efek animasi layaknya "14 Peaks: Nothing is Impossible" (2021). Alih-alih menjadi suatu kekurangan, ketiadaan unsur-unsur tersebut membuat penonton jadi lebih fokus mengikuti kisah hidup Puff beserta sudut pandangnya.
Transisi scene per scene-nya tergolong mulus berkat film editing yang rapi. Mayoritas objek pada film ini di-shot dengan pendekatan Extreme Close Up (ECU) yang membuat tiap objeknya terlihat lebih besar sekaligus detail. Misalnya saja pada Puff yang ukuran aslinya mungil, namun jadi terlihat lebih besar berkat pendekatan shot berbasis ECU. Dengan ukuran yang lebih besar, penonton bisa melihat tiap detail yang ada di tubuh Puff, mulai dari sorot mata sampai warna-warna yang ada di sisiknya.
Sajian musik pun disajikan guna meramaikan tiap scene-nya. Musik yang tersaji sangat variatif, mengikuti kebutuhan scene. Pada scene yang santai dan penuh lanskap indah, musik yang ditampilkan cenderung bernuansa ambience. Musik lantas berubah menjadi mencekam saat scene menampilkan adegan dramatis.
Dokumenter ini juga punya adegan dramatis yang membuat dokumenternya tak terasa monoton. Sajian drama itu muncul saat Puff hendak dimakan ikan besar, serta saat scene yang menampilkan siput laut raksasa yang memburu siput lebih kecil. Hebatnya, semua adegan itu nyata adanya. Adapun yang membuatnya dramatis adalah sajian music scoring, penggunaan shot kamera berbasis cut in, serta narasi dari Rose. Bicara soal Rose, ia mampu menjadi narator yang baik berkat suaranya yang lembut, serta intonasi yang variatif. Penonton pun jadi nyaman mendengarkan tiap narasi yang disajikan Rose.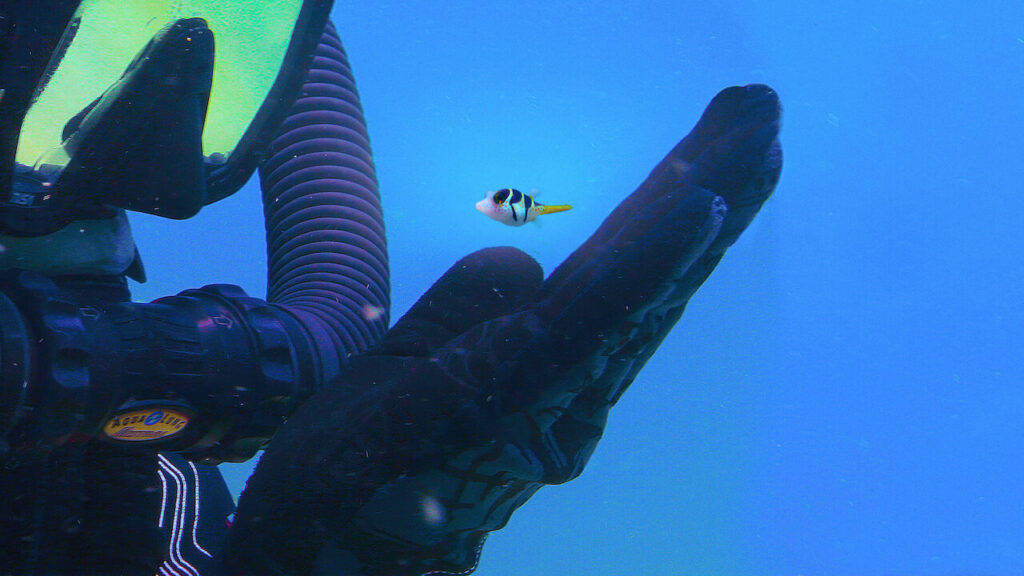 Film ini tak hanya sekadar menampilkan proses hidup Puff selama di The Great Bearer Reef. "Puff" juga menggambarkan peran penting terumbu karang bagi lautan dan semua penghuninya. Batu karang merupakan penyedia makanan terbesar bagi seluruh biota laut, serta membuat ekosistem lautan tetap seimbang. Bila terumbu karang rusak, maka semua itu tak bisa terjadi. Semua peran penting terumbu karang itu digambarkan lewat shot ECU yang intens, serta narasi Rose yang informatif sekaligus meyakinkan.
Kerasnya kehidupan bawah laut pun tergambar di dokumenter ini. Penonton akan melihat proses perburuan ikan besar terhadap ikan kecil, termasuk apa yang dialami Puff. Sang objek utama dokumenter ini nyaris saja menjadi santapan ikan besar. Untungnya, ia punya racun yang membuatnya tetap bertahan. Dokumenter pun lantas ditutup dengan kehidupan Puff setelah menjadi ikan buntal dewasa, pesan soal pentingnya terumbu karang yang disampaikan secara implisit, serta soundtrack film bertempo upbeat.
Bagi penikmat dokumenter, "Puff: Wonder of the Reef" adalah dokumenter lainnya yang layak ditonton. Dokumenter garapan Nick Robinson ini mempunyai banyak kelebihan, sehingga penonton tak akan menyesal untuk menontonnya. Usai menonton film ini, penonton akan lebih memahami banyak hal soal lautan, mulai dari kehidupan ikan buntal sampai peran penting terumbu karang.