Di sekitar wilayah Nepal, Pakistan, dan Tiongkok, terdapat 14 gunung yang masing-masing memiliki ketinggian hingga 8.000 mdpl. Everest, K2, dan Shishapangma adalah beberapa contohnya. Keempat belas gunung pertama kali berhasil didaki oleh Reinhold Messner pada 1986.
Pendaki asal Italia itu berhasil mendaki semua gunung tersebut dalam waktu 16 tahun tanpa bantuan oksigen. Rekor Messner lantas hendak dipecahkan oleh seorang pendaki Nepal bernama Nirmal Purja. Ia akan mendaki keempat belas gunung itu dengan waktu yang lebih singkat, yakni 7 bulan saja. Pendakian tersebut juga dilakukan di tiga negara, yaitu Nepal, Pakistan, dan Tiongkok.
Apa yang dilakukan Nirmal itu tak sekadar untuk memecahkan rekor lama, tetapi menjadi ajang pembuktian bahwa ia bisa melakukan hal-hal mustahil, serta membuktikan kalau pendaki asal Nepal tak kalah jago dari para pendaki asal negara-negara Barat. Nirmal pun lantas mengajak rekan-rekan pendaki Nepal lainnya untuk melakukan hal tersebut. Lantas, apakah Nirmal dkk berhasil melakukannya?
"14 Peaks: Nothing Is Impossible" akan memberi jawabannya kepada kita semua. Dokumenter garapan Torquill Jones itu akan memperlihatkan setiap proses yang dilakukan Nirmal, mulai dari persiapan sampai proses pendakian tiap gunung. Selain subjek dokumenter, Nirmal juga berperan sebagai narator utama dokumenter ini. Berbagai narasumber pun turut dihadirkan, mulai dari kalangan pendaki gunung sampai orang-orang terdekat Nirmal.
Setiap adegan pendakian di filmnya disajikan dengan visual high quality, sehingga membuat dokumenter ini terlihat begitu sinematik. Bumbu-bumbu drama pun tersaji di tiap adegan pendakiannya secara pas, sehingga membuat dokumenternya berwarna secara emosi. Di sela-sela adegan pendakian, diselipkan subplot tentang latar belakang Nirmal sebelum melakoni proses pendakian.
Alih-alih mengganggu, subplot tersebut justru menjadi semacam ice breaking yang membawa penonton santai sejenak sebelum dibawa ke plot utama yang menegangkan. Momen ice breaking film ini juga tercipta di beberapa momen saat Nirmal beristirahat di tengah proses pendakian. Kehadiran beberapa momen itu seolah memberi pesan bahwa semenegangkan apa pun proses pendakian yang dilalui, Nirmal dan rekan-rekannya masih bisa bersikap santai.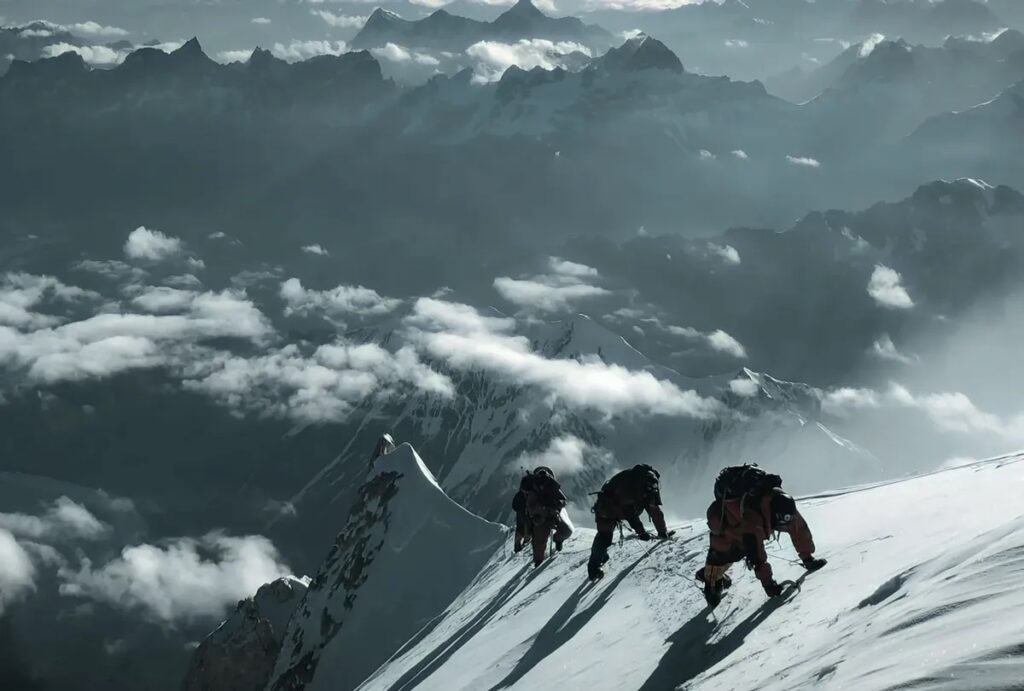 Layaknya dokumenter umumnya, dokumenter ini pun juga menyajikan berbagai macam footage foto dan video, mulai dari footage sejarah pendakian 14 gunung yang dilakukan Messner sampai footage kehidupan pribadi Nirmal. Di beberapa scene, terdapat adegan yang diilustrasikan dengan animasi semi karikatur. Adegan animasi tersebut disajikan dengan proper, serta memiliki tampilan visual yang tak jomplang dengan adegan non animasi di film ini. Kredit untuk tim editor yang mampu menghubungkan adegan animasi dan non animasinya dengan rapi.
Daya tarik lainnya dari "14 Peaks" adalah sajian music scoring di tiap adegan pendakiannya yang begitu mencekam dan memberi momen dramatis pada tiap adegannya. Setiap music scoring di film ini mirip seperti musik yang ada di film-film survival dan thriller. Sajian musiknya yang proper membuat "14 Peaks" mendapatkan nominasi "Best Original Score – Documentary" di ajang "Hollywood Music in Media Awards".
Walau bukan film fiksi motivasional, "14 Peaks" tetap menyajikan berbagai kalimat quotable inspiratif yang kebanyakan dilontarkan oleh Nirmal. Beberapa kalimat di antaranya adalah "Don't be afraid to dream big. Doesn't matter where you from", " This is about inspiring the human race", serta "Whatever the situation is, we have to stay in control."
Menjelang dokumenter usai, konflik pun tersaji saat Nirmal dkk kesulitan mendaki gunung terakhir. Konflik yang disajikan tampil dengan tensi yang pas, sehingga tak membuat filmnya jadi film over-dramatic. Layaknya detektif jagoan, Nirmal pun berhasil mengatasi konflik tersebut lewat beragam solusi cerdas. Film pun ditutup dengan adegan yang menghangatkan hati.
"14 Peaks: Nothing Is Impossible" bukanlah dokumenter biasa, melainkan dokumenter yang enak ditonton berkat sajian visual dan bumbu drama di dalamnya, serta inspiratif berkat kehadiran sejumlah quotes dari Nirmal selaku subjek utama. Tak heran, jika dokumenter ini mendapatkan berbagai kritik positif dari kritikus dan penonton, salah satunya Rotten Tomatoes yang memberi rating 88 persen. "14 Peaks" Nothing Is Impossible" kini bisa disimak di Netflix.