Sukses dengan serialnya, "Bordertown" kembali hadir lewat sekuel bertajuk "Bordertown: The Mural Murders" (2021). Sekuel dengan format film ini masih menghadirkan Kari Sorjonen (Ville Virtanen) dan Lasse Maasalo (Sampo Sarkola). Mikko Olkkonen pun masih terlibat dalam proses produksinya, walau hanya bertugas sebagai penulis naskah dan Juuso Syrja sebagai sutradara.
Pada sekuel ini, Kari Sorjonen akan menginvestigasi pembunuhan misterius terhadap orang-orang yang terlibat dalam kasus pedofilia dan bentuk pelecehan seksual lainnya. Setiap pembunuhan berlangsung, pembunuh selalu meninggalkan subliminal message dalam bentuk mural yang ditulis dengan darah korbannya.
Kelebihan utama film ini adalah transisi scene per scene-nya yang mulus berkat pemakaian flow lambat. Transisi semacam itu membuat perpindahan tiap scene-nya nyaman dilihat dan terhindar dari kesan tiba-tiba. Transisi semacam itu juga berlaku pada tokoh utamanya. Pada film ini, penonton akan melihat perubahan Kari Joronsen secara perlahan, dari yang mulanya memiliki brewok dan banyak cemas menjadi Kari yang jenius dengan wajahnya yang bersih dari brewok.
Berbicara scene, ada satu scene paling indah di film ini, yaitu scene yang menggambarkan aktivitas beberapa tokoh protagonisnya. Scene itu disajikan lewat perpindahan kamera yang pelan tapi pasti, visual dengan color grading yang enak dilihat, silent acting dari para tokohnya, serta music scoring yang mengalun pelan.
Sinematografi menjadi kelebihan lain film ini berkat sejumlah shoot yang menggambarkan keindahan sudut-sudut Finlandia. Sebagaimana series-nya, film ini juga menampilkan visual kebiruan di beberapa sudut. Warna visual semacam ini juga bisa dilihat pada film "Army of Thieves" (2021).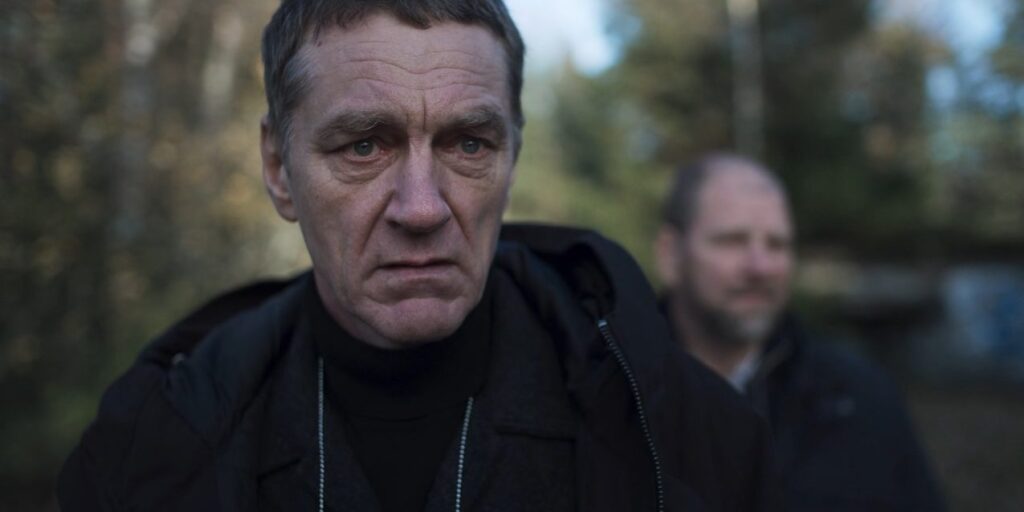 Music scoring di satu jam pertama film ini tampil dalam volume kecil dan instrumentasi yang minim. Treatment semacam itu membuat musiknya seolah menghantui para penonton. Masuk ke adegan-adegan kunci, musik pun lantas tampil dengan instrumentasi yang lebih kaya, serta volume yang lebih kencang.
Semua keindahan di film ini sayangnya ternodai oleh kehadiran tokoh antagonisnya yang tak sesuai ekspektasi. Di awal film, penonton diajak berekspektasi soal siapa tokoh tersebut lewat aksi pembunuhannya yang mengincar para predator seksual, serta pesan-pesan tersembunyi yang ia sampaikan. Lewat semua penggambaran itu, penonton pasti mengira kalau pelakunya adalah Lasse Maasalo atau sosok lain yang tak kalah jenius, kalem, dan kejam. Namun, sosok antagonis itu punya tampilan yang tak sesuai dengan pembunuhan yang ia lakukan.
Kekurangan lainnya ada pada konflik antara Kari dan Maasalo yang kurang dieksplorasi lebih jauh. Padahal konflik keduanya merupakan salah satu daya tarik pada versi serialnya. Belum lagi penyelesaian konflik keduanya yang terasa begitu mudah.
Di sektor akting, Ville Virtanen masih mampu memerankan sosok Kari secara konsisten. Hanya saja, di film ini ia mesti melakukan effort lebih dengan menampilkan transisi dari tokoh yang ia perankan, dan beruntungnya ia mampu melakoni hal itu. Ia pun masih memperlihatkan kemampuan investasi Kari yang sudah menjadi ciri khas tokoh tersebut. Konsistensi juga masih ditampilkan Sampo Sarkola kala memerankan Lasse Maasalo. Walau durasi tampilnya sedikit, ia masih mampu memerankan Maasalo yang tenang dan manipulatif.
Jajaran supporting role-nya mampu tampil baik walau tak mampu mengimbali Virtanen dan Sakola. Satu-satunya yang agak mengecewakan adalah Arttu Kapulainen yang berperan sebagai Henry alias The Judge, sosok antagonis yang melakoni serangkaian aksi pembunuhan pada film ini. Ia dianggap mengecewakan karena aktingnya sebagai tokoh tersebut kurang meyakinkan.
Walau menampilkan banyak hal menarik, "Bordertown: The Mural Murders" tak mampu melampaui atau menyamai kualitas pendahulunya yang merupakan serial ternama Finlandia. Semua itu berkat kekurangan yang tersaji pada film ini. "Bordertown: The Mural Murders" sendiri kini sudah rilis di Netflix.