Setelah The English Patient (1996) yang memenangkan Oscar, Anthony Minghella mencoba mengadaptasi sastra yang rumit pada film The Talented Mr. Ripley (1999). Film ini diperankan Matt Damon sebagai psikopat biseksual. Ripley adalah psikopat yang cerdas dan karismatik dari New York bekerja sebagai room boy dan terkadang menjadi seorang pianis.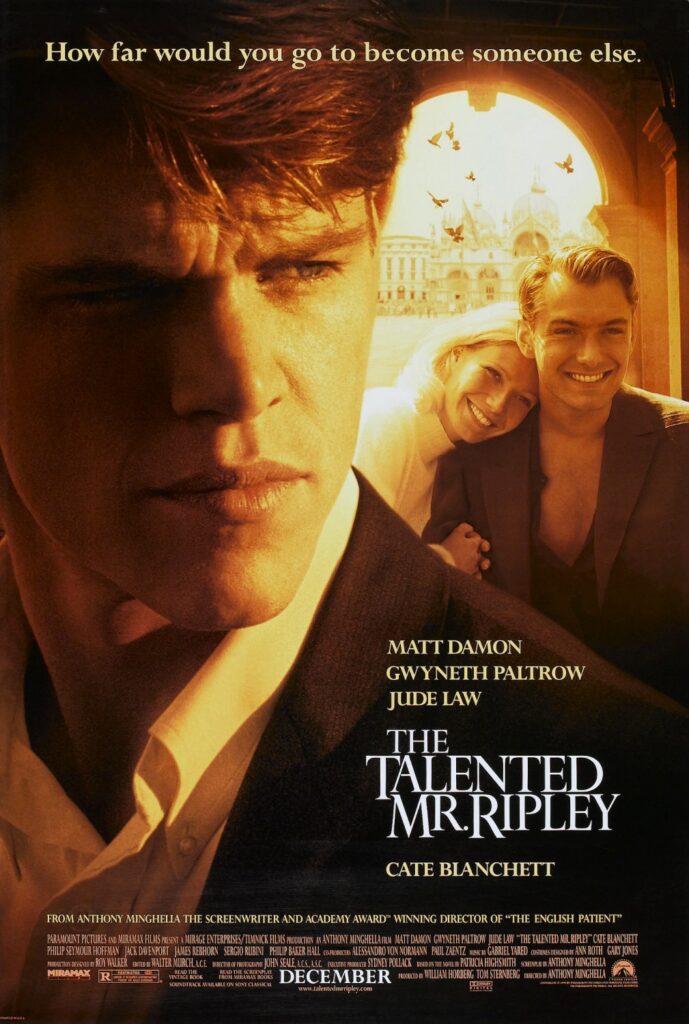 Keterampilan lainya adalah meniru orang lain sehingga Ripley mampu menjalankan berbagai penipuan. Jalan psikopatnya pun dimulai ketika ia didekati Herbert Greenleaf ketika sedang bermain piano di sebuah pesta. Herbert memberi tugas dadakan kepada Ripley untuk melakukan perjalanan ke Italia.
Tujuannya adalah bertemu dengan anaknya yang bernama Dickie Greenlaf. Ia tinggal di pesisir pantai Italia bersama kekasihnya yang bernama Marge. Ripley mau berangkat ke sana karena ongkosnya ditanggung dan akan dibayar 1.000 dolar jika berhasil membawa Dickie pulang ke Amerika Serikat.
Akting Tak Terduga Matt Damon
Kemacho-an Damon yang biasa kita lihat tidak terlihat di sini, meskipun lekuk tubuh atletisnya diperlihatkan dalam film ini. Para penonton justru akan melihat sisi Damon yang lain dalam seorang diri Ripley. Bagaimana Damon menjadi seorang yang terlihat lugu ketika bertemu dengan orang-orang lain di Italia.
Sisi lugu Ripley justru berubah ketika menunjukan keahliannya menyamar sebagai Dickie. Terutama ketika berkomunikasi dengan seorang wanita bernama Meredith Logue. Saat itulah sisi maskulinitas dan keliaran Ripley lebih nampak. Akting itu bisa ditemukan ketika Ripley sudah merasa seperti Dickie ketika bertemu dengan Meredith di perjalanan menuju Italia.
Sementara keluguan kembali ditunjukan oleh Ripley ketika berteman akrab dengan Dickie dan Marge. Sampai pada akhirnya Dickie melihat langsung keliaran Ripley yang menggunakan pakaian miliknya sambil menari-nari di depan cermin. Sisanya, banyak adegan-adegan dari Ripley yang tidak terduga atas kemampuan penyamaran dan naluri psikopatnya.
Hal itulah yang turut mengiringi cerita tak terduga dalam film ini. Tidak akan ada yang menyangka bahwa Ripley mampu membunuh beberapa orang di balik keluguannya dan dipermulus akting penipuannya. Maka dari itu aksi-aksi Damon dalam memerankan seorang Ripley patut dicungi jempol dalam film ini.
Membalikan Logika
Beberapa orang akan kaget dengan apa yang dilakukan Ripley pada keseluruhan alur ceritanya. Hal inilah yang membuat film The Talented Mr. Ripley begitu menarik. Pada awalnya, mungkin akan bertanya-tanya dan terlihat monoton dari skema yang ditunjukan ketika film baru dimulai. Tapi dialog-dialog pada film ini membuat betah untuk menikmati scene berikutnya.
Bisa dimulai ketika Ripley mendapatkan tugas untuk ke Italia dan bertemu beberapa tokoh kunci film ini. Di sisi lain, beberapa bagian pada film ini kurang penjelasan sehingga muncul berbagai pertanyaan. Penonton akan dibuat berpikir keras selama menonton film ini. Sampai pada akhirnya logika-logika para penonton akan dimentahkan oleh aksi penyamaran seorang Ripley.
Mungkin hal itulah yang menyebabkan The Talented Mr Ripley Menerima lima nominasi Academy Award, termasuk skenario adaptasi dan aktor pendukung terbaik. Sebetulnya, film thriller psikologis dari Amerika ini rilis pada 1999 yang disutradarai Minghella. Ia mengadaptasinya dari novel dengan judul yang sama karya Patricia Highsmith pada 1955.
Novel itu juga sudah dua kali difilmkan pada 1957 yang serial antologi TV Studio One. Sementara versi film penuhnya dibuat dengan judul Purple Noon (1960). Tapi menjadi kesuksesan komersial ketika dirilis pada The Talented Mr Ripley.