The InterContinental Pondok Indah: A New Icon of Luxury in the Heart of South Jakarta
Menyuguhkan pemandangan Kota Jakarta sekaligus pengalaman berbelanja yang tak terlupakan.
InterContinental Jakarta Pondok Indah merupakan cabang terbaru dari jaringan InterContinental Hotel & Resort di Indonesia beserta wilayah Asia Tenggara dan Korea (SEAK). Dengan pengalaman selama 70 tahun, InterContinental Hotel & Resort telah memberikan pelayanan tanpa batas di industri ini. InterContinental Hotel & Resort merupakan salah satu brand di bawah InterContinental Hotel Groups, sebuah organisasi global yang memegang paten 16 merek hotel. InterContinental Hotel Groups sendiri mengoperasikan brand-nya dengan tiga cara: pemilik waralaba, manajer, dan pemberi sewa. Jumlahnya mencapai 5.500 hotel dengan 825.000 guest rooms di hampir 100 negara.
Tiap cabang InterContinental Hotel & Resort memiliki layanan yang personal dan disesuaikan dengan citarasa lokal. Hal inilah yang membuat InterContinental Pondok Indah berbeda. Menyuguhkan pemandangan Kota Jakarta sekaligus pengalaman berbelanja yang tak terlupakan. Hotel ini berada di wilayah yang terintegrasi secara strategis dengan pusat perbelanjaan terkemuka, office tower, fasilitas yang family friendly, serta lapangan golf kelas dunia. Segala kebutuhan dan ekspektasi kita akan terpenuhi melalui 311 guest rooms dan suites yang ditata elegan sekaligus berpadu sempurna. Tiap sudut diisi furnitur berkelas dengan karya seni bercita rasa tinggi yang timeless.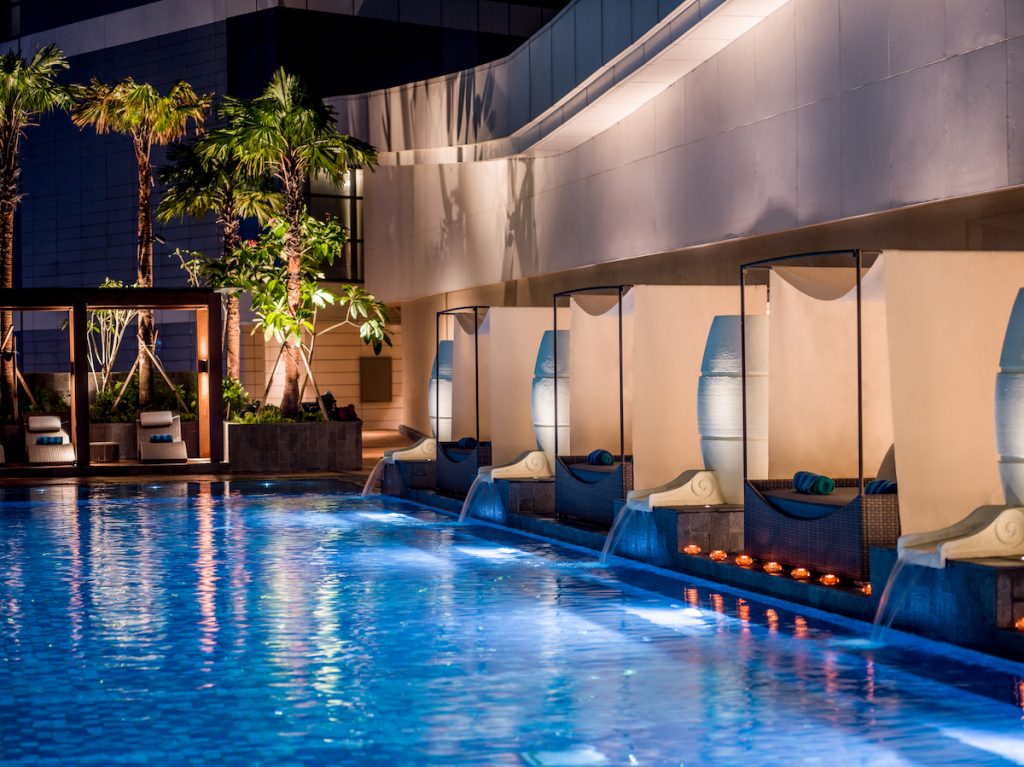 Ada tiga jenis kamar yang disediakan InterContinental Jakarta Pondok Indah. Jenis pertama adalah kamar classic dan kamar deluxe dengan ukuran 46 meter persegi. Kita akan disuguhi pemandangan Kota Jakarta Selatan, kolam renang, dan lapangan golf. Cocok untuk dinikmati berdua bersama pasangan. Bila ingin merasakan kemewahan yang lebih berkelas lagi, sebaiknya mencicipi nikmatnya bersantai di Kamar Club InterContinental dan Kamar Club InterContinental Suite. Kita akan mendapatkan akses yang private dan ekslusif di Club InterContinental.
Kamar yang terletak di lantai atas yaitu Eksekutif Suite, Club InterContinental Suite, dan Ambassador Suite. Kita tidak hanya dimanjakan dengan pemandangan Kota Jakarta Selatan dari ketinggian saja tetapi juga fasilitas terbaik yang ditata mewah dan canggih tiada duanya. InterContinental Jakarta Pondok Indah juga menyediakan fasilitas meeting room maupun wedding lounge yang tentunya akan memberikan pengalaman tak terlupakan di hari bahagia.
Di gallery pernikahan, kita dapat menikmati pelayanan satu pintu untuk seluruh kebutuhan pernikahan mulai dari gaun pengantin hingga penyediaan undangan dan souvenir. Membutuhkan tempat untuk tamu yang lebih banyak? Gunakan Grand Ballroom yang mampu menampung hingga 3.500 tamu.