Pada tahun 1999, seorang remaja bernama Beverly (Gemma Brooke Allen) menjalani rutinitasnya tanpa kehadiran kedua orangtuanya yang meninggal, mulai dari diantar jemput ke sekolah oleh sang nenek (Julie Bowen) sampai mendapat perundungan dari beberapa temannya. Di rumah, Beverly yang kesal tak sengaja menendang sebuah kotak berisi mixtape peninggalan mendiang kedua orang tuanya.
Sayangnya, mixtape yang diberi judul "Love Riot" itu tak bisa diputar karena rusak. Tak menyerah, Beverly pun lantas mendatangi toko musik milik Anti (Nick Thune). Bukan untuk memperbaiki kasetnya, melainkan membeli sejumlah rilisan fisik yang mengandung lagu-lagu yang ada di mixtape itu. Sempat menolak, Anti pun akhirnya memberi rilisan fisik beberapa lagu yang ada di mixtape itu dalam bentuk kaset A-A. Beverly semakin semangat menemukan rilisan fisik dari lagu-lagu sisanya, apalagi setelah ia meyakini kalau tiap lagu itu punya pesan untuknya.
Itulah sekelumit cerita dari "The Mixtape" (2021), film drama remaja garapan Valerie Weiss. Lewat film sepanjang 97 menit ini, penonton akan diajak menelusuri pesan di tiap lagu yang ada pada mixtape peninggalan ortu Beverly. Film ini pun juga akan memperlihatkan hubungan Beverly dengan orang-orang terdekatnya, mulai dari kedua sahabatnya, neneknya, sampai Anti si pemilik musik.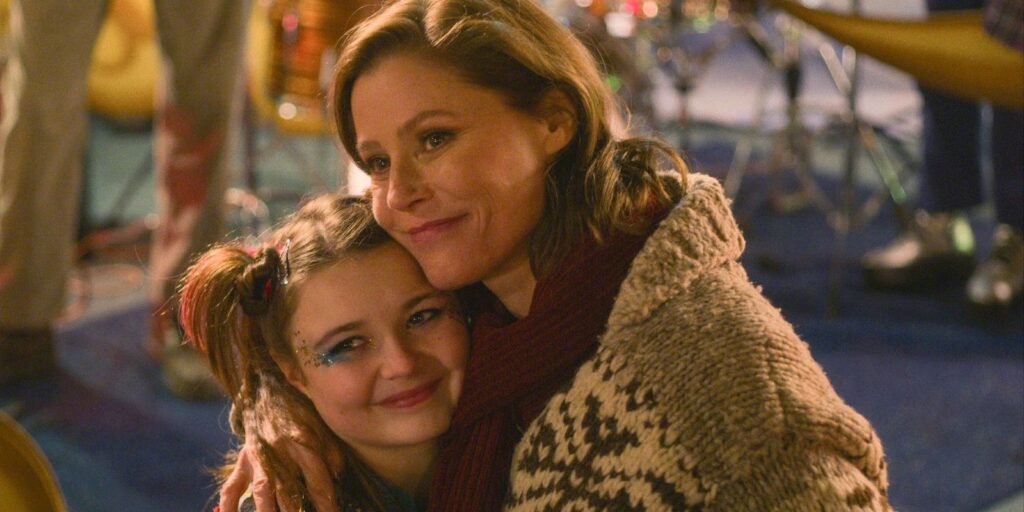 Mengandung Lagu-Lagu Punk Rock dan Alternatif Underrated Era 80-an yang Diputar di Era 90-an
Salah satu daya tarik dari "Mixtape" adalah repertoar lagu di dalamnya. Semua lagu di film ini merupakan lagu-lagu punk rock dan alternatif dari sejumlah grup musik underrated era 80-an, semisal The Kinks, The Quick, dan The Stooges. Lagu-lagunya semakin menarik lantaran dimainkan di film berlatar 90-an dengan tokoh utama seorang remaja putri yang tergolong cupu. Semua lagu itu berhasil melakoni fungsi gandanya di film ini, yakni sebagai bagian dari plot cerita serta menjadi moodbooster untuk para penonton.
Plot ceritanya sendiri tergolong ringan dan mudah ditebak, namun masih nyaman diikuti. Unsur drama turut ditambahkan ke dalam cerita yang disajikan secara pas tanpa jatuh jadi melodramatic. Film ini tak sekadar tentang memecahkan makna tiap lagu, tapi juga hubungan Beverly dengan orang-orang terdekatnya. Tiap hubungan yang dibangun Beverly dengan tiap tokoh yang ada dibangun dengan cukup perlahan namun pasti, mengikuti alur cerita film itu sendiri.
Salah satu kekurangan film ini adalah penyelesaian konfliknya yang terlalu simpel dan seolah-olah membuat proses pencarian pesan pada mixtape milik orang tua Beverly terasa sia-sia. Kekurangan lainnya adalah pemakaian isu Y2K yang hanya jadi tempelan semata dan sebetulnya tak perlu dimasukkan ke dalam naskah cerita.
Gemma Brooks Allen yang Menjanjikan
Walau tampak aneh saat mengenakan atribut khas musik punk dan alternatif, Gemma tetap mampu memerankan sosok Beverly yang cupu, punya kegelisahan soal orang tuanya, serta punya ketertarikan pada musik punk dan alternatif. Hal serupa juga berlaku untuk Audrey Hsieh yang memerankan sosok Ellen.
Olga Petsa tampil baik sebagai supporting role lewat perannya sebagai Nicky. Sebetulnya, tokoh Nicky yang diperankan Olga jauh lebih cocok menjadi tokoh utama, karena image tokohnya sangat cocok dengan sajian musik di dalam film ini.Sayangnya, tokoh ini hanya jadi supporting role belaka dengan karakterisasi yang cukup aneh.
Julie Bowen dan Nick Thune juga tampil baik dengan perannya masing-masing. Julie mampu memerankan sosok nenek dari Beverly yang serius dan protektif terhadap Beverly. Sementara itu, Nick mampu membawa tokoh Anti sebagai scene stealer di film ini lewat sifatnya yang sarkas namun baik hati.
Secara teknik sinematografi dan penceritaan, "Mixtape" memang tak menawarkan sesuatu yang spesial dan mendalam, walaupun punya ide cerita menarik. Namun, film satu ini masih layak ditonton terutama bagi penonton yang menginginkan sajian popcorn-movie di kala senggang. "Mixtape" kini bisa ditonton di Netflix.