Di Bali ada dua spot foto yang dijuluki "Gate of Heaven" atau "Gerbang Surga", yakni Pura Lempuyang Luhur di Karangasem dan Handara Gate di kawasan Bedugul, Singaraja. Keduanya adalah sepasang Gapura Candi Bentar yang ratusan orang rela antri setiap harinya demi mendapatkan foto-foto "instagramable" yang lagi hits. Namun tak banyak yang tahu bahwa Handara Gate, adalah pintu masuk dari sebuah tempat golf bernama Handara Golf & Resort.
Handara Golf & Resort terletak di antara Danau Buyan dan Danau Beratan, kawasan dataran tinggi Bali Utara. Bagi yang hobi atau ingin mencoba bermain golf di lokasi yang relatif sejuk, Handara layak dicoba. Bahkan suhu udara dapat mencapai 16° Celcius ketika malam hari. Handara adalah satu-satunya tempat golf di Bali yang terletak di kawasan pegunungan Bedugul, sementara tempat-tempat golf yang lain terletak di kawasan garis pantai selatan pulau Bali yang notabene lebih panas.
Nama "Handara" diambil dari nama salah satu anak sang pemilik Ibnu Sutowo, yakni Handara Sutowo. Resort seluas lebih dari 100 hektar ini dibangun sejak tahun 1974 silam.
Handara Golf & Resort memiliki dua jenis penginapan, yakni hotel building dengan 47 total kamar dari semua tipe, dan resort Chalet Room dengan fire place (tungku perapian). Golf resort 18 holes 72 par ini juga dilengkapi 2 restaurant yakni Soyokaze Japanese Restaurant dan Breeze Terrace yang juga terbuka untuk umum, dan sebuah meeting room dengan kapasitas lebih dari 150 orang.
Dua kali berturut-turut sejak 2018, ini Handara kembali meraih Indonesia's Best Golf Hotel 2019 dari World Golf Awards yang gala ceremony dan awarding-nya tahun ini digelar di Abu Dhabi 28-30 Oktober lalu.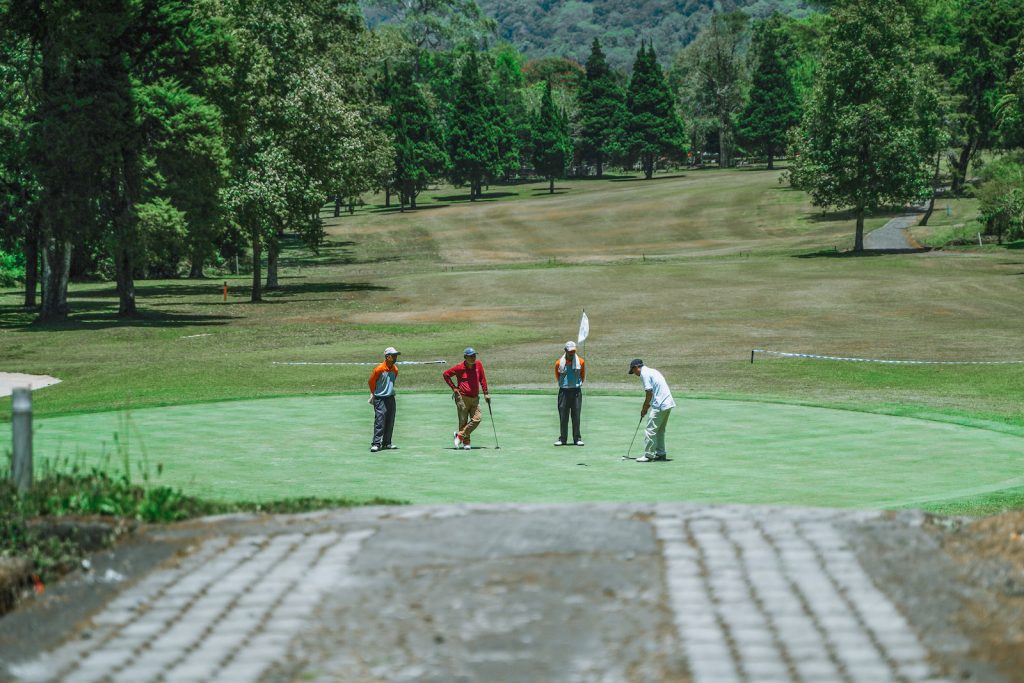 Pada tahun 2020 mendatang Handara mentargetkan serifikat Eco Resort. Saat ini gerakan "going eco" sudah dimulai dengan tidak pakai botol plastik, melainkan botol beling, sedotan (straw) beling. Dengan privilege letak geografisnya yang sudah sejuk, maka fasilitas penginapan di Handara Golf and Resort tidak menggunakan AC yang secara otomatis meminimalisir penggunaan energi dan lebih eco-friendly. Handara juga tidak menggunakan water sprinkle untuk perawatan rumput, karena curah hujan yang sudah cukup tinggi.
Pasar pegolf dan wisatawan domestik masih merajai Handara saat ini disamping wisatawan Australia, Jepang, Korea, Amerika dan Rusia.
Harga Golf course di Handara dimulai dari Rp 1,8 juta (18 holes) atau Rp 1 juta untuk 9 holes per pax yang sudah termasuk "green fee", caddy dan buggy cart (mobil golf). Sedangkan in-house guest dapat menikmati golf dengan harga Rp 1 juta (18 holes) atau Rp 650,000 (9 holes) dengan fasilitas yang sama. Sementara harga lesson dimulai dari Rp 450,000 di driving range, dan on course playing lesson dari Rp 1,3 juta untuk 9 holes dan  Rp 1,8 juta 18 holes per pax.
Sementara harga tiket foto Handara Gate untuk domestik Rp 20,000/pax, asing Rp 30,000/pax. Dibuka mulai dari jam 6 pagi hingga 7 malam.