Bersiaplah untuk perayaan tequila, budaya, dan revolusi yang penuh semangat! Espolon, salah satu merek tequila paling inovatif di dunia, mengumumkan Espolon Barrio Fiesta 2023 perdananya. Untuk pertama kalinya di Asia, Bali akan menjadi tuan rumah acara yang ini dari tanggal 31 Oktober hingga 4 November, 2023.
Berlatar belakang lanskap Bali yang menakjubkan, Barrio Fiesta lebih dari sekadar festival; ini adalah pernyataan seni yang berani dan bertentangan dengan arus. Bertema block party bergaya Meksiko, acara ini bertujuan untuk memperkuat posisi Espolon sebagai tequila #1 di pulau ini.
Five Days of Fiesta, Flavors, and Fun
Festival ini dimulai dengan Bar Take Over selama tiga hari mulai tanggal 31 Oktober hingga 2 November. Enam gerai utama di Bali; The Shady Fox, Old Man's, Hippie Fish, The Back Room, The Shady Pig, Teasing Tounges, Santanera dan Platonic akan berpartisipasi dalam bar take over ini. Setiap tempat akan menampilkan Bar Take Over oleh para bartender elit atau duta merek Campari, menjanjikan pengalaman bakat, rasa, dan pesta yang tak terlupakan.
Kemegahan semakin terasa pada 4 November dengan Block Party Festival yang penuh semangat di Kawasan Mural Espolon, dekat Beach Garden, Jl Batu Bolong, Canggu. Para peserta akan tenggelam dalam block party otentik Meksiko dengan Bar Take Over oleh The Lawn Ranger, menampilkan serangkaian kedai makanan Meksiko, pertunjukan bakat dinamis, pelukis wajah, dan pertunjukan DJ. Yang menjadi sorotan dalam acara ini adalah penampilan bintang tamu The Hydrant, yang akan menggemparkan penonton dengan penampilan eksplosif mereka.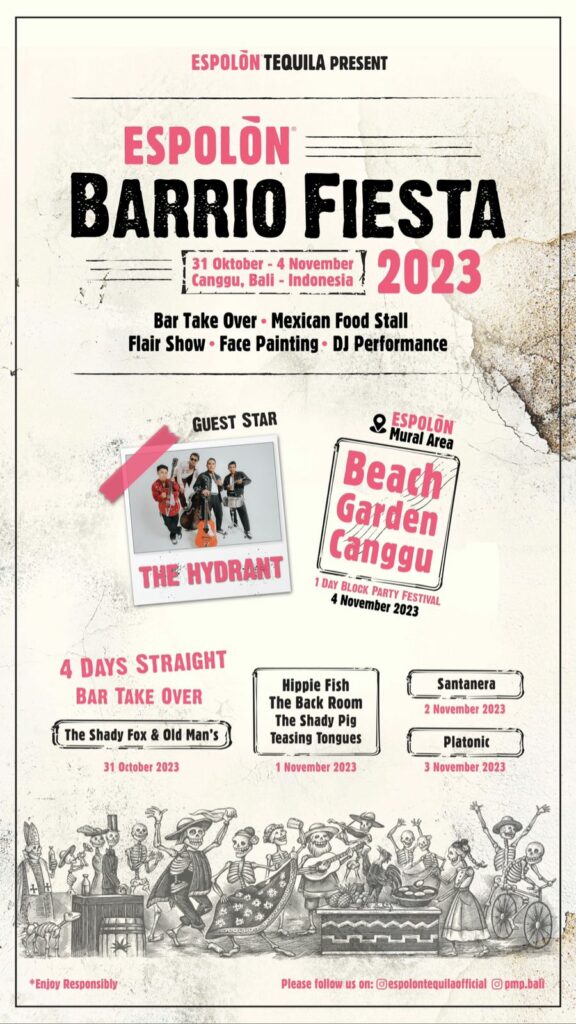 Espolon: Warisan Pemberontakan Artistik dan Keahlian
Espolon, sebuah penghormatan terhadap budaya pembuatan tequila Meksiko yang sesungguhnya, tidak hanya dibuat; itu dipicu oleh semangat pemberontakan. Terlahir dari pemberontakan artistik dan inovasi berani Maestro Tequilero Cirilo Oropeza, Espolon tequila berbicara kepada jiwa mereka yang mencari jalan keluar dari tradisi. Kenaikan pesat merek ini menjadi tequila premium dengan pertumbuhan tercepat kedua di dunia merupakan bukti hubungannya dengan generasi muda, kreatif, dan berani.
Espolon Barrio Fiesta 2023 mewujudkan semangat kreativitas yang berani. Ini bukan hanya sebuah acara; ini adalah sebuah deklarasi, sebuah acara bersulang bersama untuk merayakan mereka yang hidup dengan aturan mereka sendiri. Festival ini merupakan penghormatan kepada pikiran progresif dan hati yang memberontak, pusaran musik, seni, dan cita rasa nyata yang melampaui ekspektasi.
Dari jalan-jalan Bali yang dipenuhi energi, Barrio Fiesta Espolon memanggil setiap semangat bebas dan jiwa revolusioner. Ini lebih dari sekadar pertemuan; ini adalah pemberontakan kreatif, tempat di mana musik lebih keras, warna lebih cerah, dan tequila berbicara lebih banyak. Di sini, tradisi tidak hanya dihormati; tetapi ditata ulang.